Photo Gallery Archive


DANCE ACTS and
PRODUCTIONS
2013 through 2014

Lighted by
RICHARD BONNER









(Although viewable at a 640-pixel horizontal
resolution, setting your browser to 800 or 1024
would be better for this page.
Events are in reverse chronological order.)
---
Alice: The Ballet
Maritime Conservatory of Performing Arts
School of Dance

The Bella Rose Arts Centre
Halifax, Nova Scotia
February, 2014

(All lights are 1000 watts unless noted.
All fresnels and ellipsoidals are 150mm.)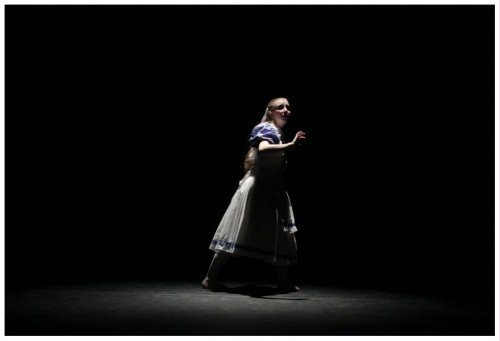 A single, 26-degree ellipsoidal with no colour from the proscenium pipe casts a sharp pool of light around Alice as she whirls down the rabbit hole.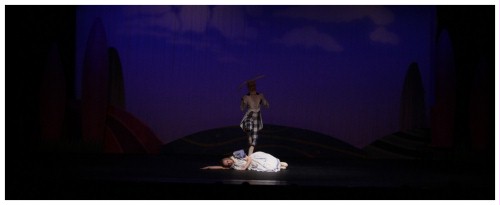 The same downlight shines on Alice while the rabbit is just at the cusp of that beam. A Medium Blue washes the rear, white curtain from two PAR 64, Short-Throw Wide Flood fixtures, while the same type of lights cast a dull red from the front of house (FOH).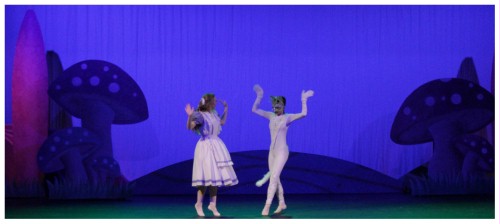 As seen above and below, a Lime Green backwash floods the floor from three fresnels on the over-stage catwalk. The Cat and Alice are lit in open white from the FOH using two 37-degree Ellipsoidals. The set and rear curtain are lit in Medium Blue from both the FOH and proscenium pipe.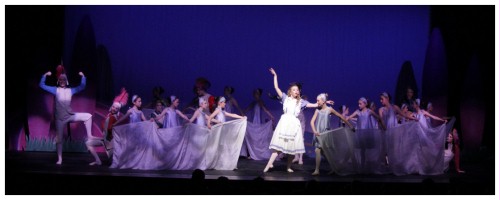 Here, Alice is in a bright pool of open white light from a single 19-degree Ellipsoidal in the house. Also from that FOH catwalk are three 37-degree Ellipsoidals with "Splotch" patterns. These produce dancing shadows on the fabrics trailed by the "Tears" dancers so as to represent Alice crying. A dim blue washes the rear curtain.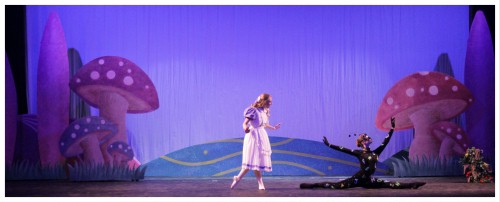 This bright scene is lit from the front in both Medium Blue and Straw, the Blue being echoed on the rear curtain along with a hint of Flesh to lighten it. A strong side wash from four wide-angle fixtures covers the stage in Flesh, as well. All fixtures are Short-Throw PAR 64s.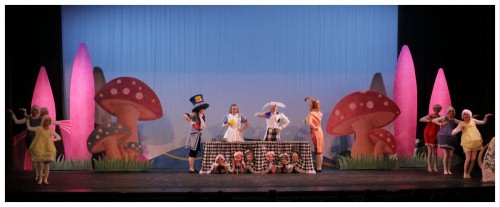 The same look as above is used here for the Tea Party, except that the front lighting is Straw only.




Front Straw illuminates the cast while two 37-degree Ellipsoidals highlight the Queen at Downstage Centre. The shrubbery is lit in Light Pink by Medium Flood PAR 64s from above and to their sides. Backlight comes from the same type of fixtures in the upper rear corners. Colour is Steel Blue. Top light adds a Dark Steel Blue from four Fresnels directly above the cast.

---
Thanks go to photographer Bruce Goodick of Halifax, Nova Scotia for usage of his photos.

---