Photo Archive
for

MUSIC ACTS
2006 through 2007





Lighted by
RICHARD BONNER
(Although viewable at a 640-pixel horizontal
resolution, setting your browser to 800 or 1024
would be better for this page.
Events are in reverse chronolgical order.)
---
Kathy Gurholt Benefit
Brightwood Golf and Country Club
Dartmouth, Nova Scotia
June, 2007


| | |
| --- | --- |
| Low Rider Band | Colour reflects from the shiny dance floor at Brightwood. |
| 1000-watt, wide-angle PAR 64s wash the band in blue while a single ellipsoidal in flesh colour hits the front musicians from a side angle. The green comes from two 600-watt PAR 64 Ray Lights. | |
2 Mikes and a Wally
with Andrew "Bubba" Tynes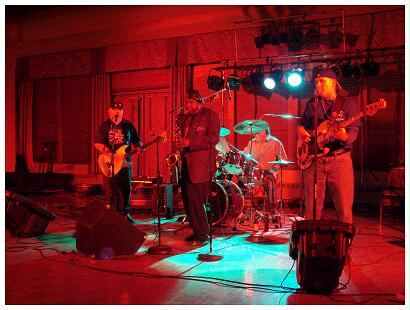 Here, the band is lit in red from the front while two Ray Lights in turquoise bathe the drummer and his kit. Note the softness of the front wash as provided by the wide-flood PAR lamps. This is because the rows of multi lenses on the face of the PAR bulb give a diffusing quality.


Sara Outhouse
backed by The Low Rider Band
accompanied by Mike Cummings





This simple scene is composed of one ellipsoidal on the singer in a flesh colour from front stage right (your left). As above, two Ray Lights in turquise light the drums, but two PAR 56 medium flood fixtures mounted on floor bases also wash the wood-slat blinds behind the band from acute side angles. This gives a pleasing pattern and provides a silhouette look.


All have been dimmed down greatly which means there is less blue in the beams. The effect is that the flesh and yellow colours are shifted considerably toward the amber end of the spectrum, while the turquoise is now shifted more towards green.
The look is completed by shining lavender on to the heads of each of the front musicians and the singer. It is done using four 200-watt PAR 56 railroad locomotive headlights. These are out of frame at Center Top. They are narrow enough to light just the head and shoulders of each person despite their distance behind and above the band.


---
Brightwood's
St. Patrick's Day Celebration
Brightwood Golf and Country Club
Dartmouth, Nova Scotia
March, 2007

This is an annual event with the Sham*Rocks. A static look was utilised for this show consisting of two 1000-watt PAR 64 medium flood fixtures providing a red front wash, and two 500-watt, barndoored fresnels giving a turquoise back wash.

The multi-stars motif was done using theatrical patterns placed in two 1000-watt ellipsoidals with 19-degree spreads. No apertures were used so as to achieve a soft-edged look. Their green colour was selected for Ireland. (They appear yellowish in the photos, partly because of the red wash, but mainly because of the camera's colour rendering.)
Sham*Rocks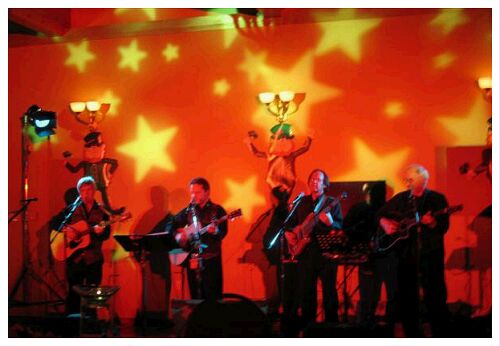 Sham*Rocks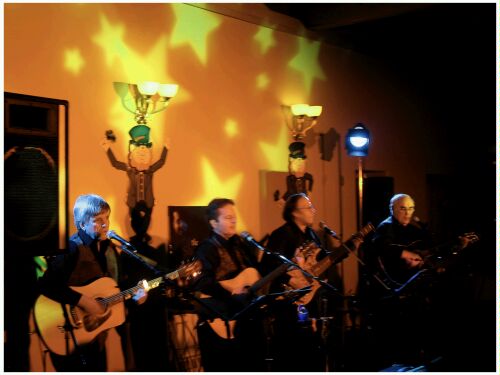 ---
Gary Stanhope's 55th
Birthday Celebration
Dave Doolittle's
Dartmouth, Nova Scotia
February, 2007

Gary Stanhope is a long-time musician in the entertainment business. His wife, Ellen, and many friends from the musical community got together to throw him a bash at Dave Doolittle's. Richard, a long-time friend of Gary and Ellen, provided lighting for the stage. However, due to power constraints, a full show was not possible, and so a static look was employed.

This consisted of a red front wash and a blue back wash done with 500-watt fresnels. All sported four-way barndoors to shield the spill light in the low-ceilinged venue. In addition, a green curtain wash was provided by 500-watt PAR 56 medium flood fixtures on floor bases. They projected up-lighting angled low from the sides in such a way as to make a light & dark pattern on the curtain pleats. As well, where the green bounced off the ceiling, that provided a subtle top light for on-stage performers.

Here is a photo array of
several of the acts that performed.
The guest of honour works his own gig!


Gary Stanhope
(Time Bandits)




Jennifer Gill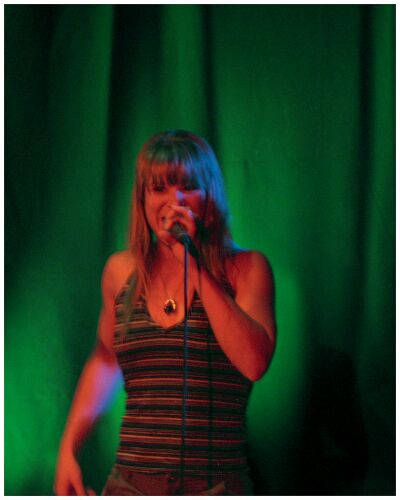 Sam Moon
with the
Time Bandits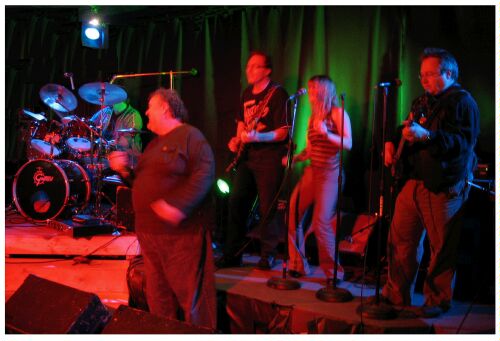 Horsepower Blues Band
Many Hatz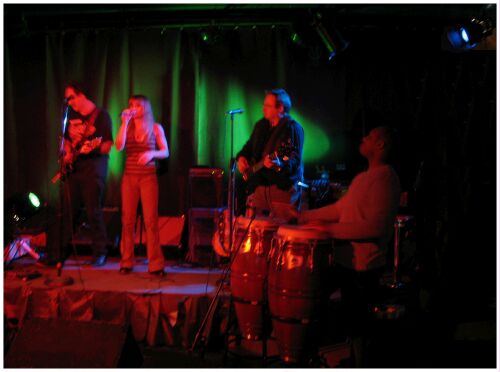 ---
Thanks to photographers Bruce Bottomley, Kathy Gurholt, Babs Walker, and Colin Conrad of the Halifax-Dartmouth, Nova Scotia area for usage of their photos.

---