Photo Archive
for

MUSIC ACTS
2014 through 2015





Lighted by
RICHARD BONNER
(Although viewable at a 640-pixel horizontal
resolution, setting your browser to 800 or 1024
would be better for this page.
Events are in reverse chronological order.)
---
Inclined to Sing
(Tribute to the Music of Patsy Cline,
Gene MacLellan, Joni Mitchell and Carole King)
Bella Rose Arts Centre
Halifax, Nova Scotia
May, 2015
Unless noted, for this show, every fixture was 1000 watts. All
PARs were 64s. Fresnels were 150mm. Front washes, the side wash
and curtain washes were Wide Flood PARs. All keylights for the
musicians and backing vocalists were 26- or 37-degree ellipsoidals
from the front of house (FOH) or proscenium pipe, and each had
flesh gel. The centre spot was 19 degrees; it was positioned higher
up on the FOH catwalk and had no gel.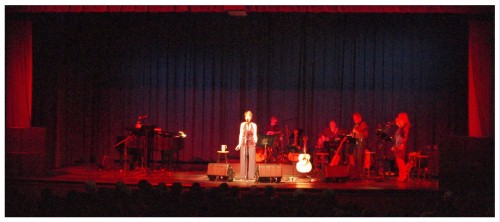 A Red front wash covers the stage and a Blue washes the rear black curtain. The centre spot is a 19-degree Ellipsoidal in open white.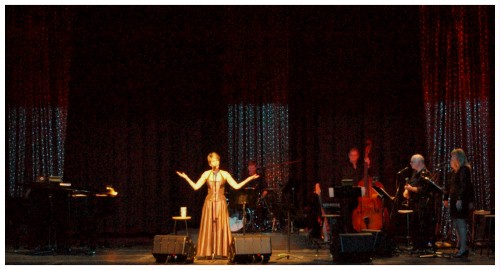 This has the same centre spot but with a Blue wash from the front of house. Red highlights the top of the sparkle curtains from the proscenium pipe. The sharp cutoff is due to the low proscenium curtain. Back lighting comes from Medium Flood PARS in the extreme Upstage corners.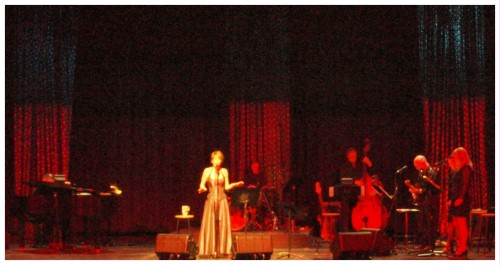 Here is the reverse of the wash colours seen above. Blue is on top, while Red is below. The sharp cutoff is once again evident.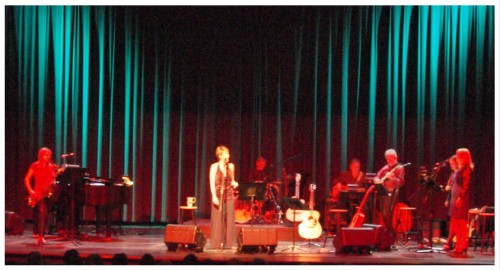 The band lit from the front in Red with Turquoise slashes on the rear black curtain. The latter is done by two Narrow Spot PAR 64s high up and at a steep angle, one from each side. As before, `Patsy' has a single key light on her.
Notice that no lighting on the sparkle curtains with strong lighting on a surface behind them, makes them completely transparent to the audience.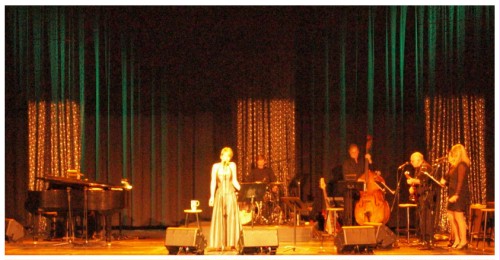 Front lighting is an Amber/Yellow with the Turquoise PAR 64s on the curtain as before. In this scene, keeping light off the top of the sparkle curtains, makes them become almost transparent. The effect is to have them appear to stand on their own.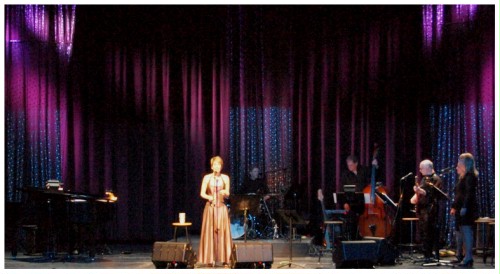 Here is the effect of extreme-side slashes on the sparkle curtains in a Lavendar colour from Narrow PAR 64s. The Blue front wash provides contrast. Top lighting comes from four Fresnels in a Dark Steel Blue.


---
Thanks goes to photographer Mike Minick of Halifax, Nova Scotia.

---