Photo Gallery Archive

THEATRICAL
PRODUCTIONS
2004 through 2006

Lighted By
RICHARD BONNER



(Reverse chronological order is employed so that photos
of the most recent events will be displayed first.)
---
Les Miserables
Halifax West Players
St. Patrick's Auditorium
Halifax, Nova Scotia
May, 2006

| | |
| --- | --- |
| | Blue top lighting through haze provides the atmosphere for this first scene, while the principles are lit in a straw colour. |
| | |
| --- | --- |
| Jean ValJean is lit by straw from the house. The set is washed in blue and lavender while dirty pinks stream down from behind to provide dimension. | |
| | |
| --- | --- |
| | Purple and magenta surround a bed that is lit with a high-angle soft white. A slight red from a side angle adds a rust tint to extreme stage left & right, while a dim straw brings out front detail. |
| | |
| --- | --- |
| This lively tavern scene has strong red from acute side angles and the principles in a front, top white. Additional smokey pink from directly over head gives a pub atmosphere. | The mottled steel colour on the set is done by projecting defocused breakup patterns on to it via 1000-watt ellipsoidal fixtures. Touches of magenta and blue round out the look. |
| | |
| --- | --- |
| A night scene is lit with light lavender foliage projected on to stage left and stage center so as to simulate moonlight through trees. This is clearest on the sets at the extreme right and behind the garden gate. | A steel-blue breakup is projected on to the upstage set to complete that look. The principles on stage right (your left) are lit in amber to give the effect of a gas streetlight. |
| | |
| --- | --- |
| A different night scene is shown here - this on the streets of Paris. Hints of light and dark lavender over a blue wash frame a full-moon pattern projection. The girl is lit from a single, barndoored fresnel positioned on the downstage pipe to give her facial light. | Four pools of amber-tinted light represent gas street lighting shining straight down as if from individual light standards lining the street. Each pool was done with a 600-watt raylight. |
| | |
| --- | --- |
| This is undergound in the sewers of Paris as the battle-weary rebels escape. A single 500-watt, barndoored PAR 56 shines from a very low angle to illuminate the bridge and railing, and to cast a dramatic shadow on the curved wall above. | The main downstage area is bathed by wide-angle PAR 64s in a "sewer green" colour from extreme side angles. A low mist representing sewer gas completes the look. |
---
The Passion of Christ
Theatre on This Rock
St. Peter's Church
Dartmouth, Nova Scotia
April, 2006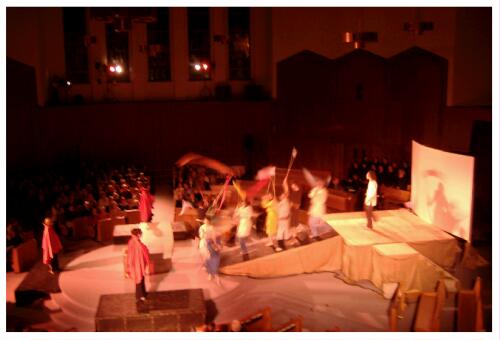 Colour correction filters provide a light gold wash from side positions. Red has been added to enhance the colour in the costumes and flags. White key lights from the front (your left, here) highlight the ramp and main stage.
At Center Top and Upper Left is the house left ledge used to position the side lighting equipment. The gold and red wash fixtures are represented by the double bright spots, while the small light source at the left is from one of the followspots. This photo was taken from the opposite ledge which contained the lighting director's location and the complementary side lighting and followspot of the house-right ledge.

| | |
| --- | --- |
| | This musical's "Theatre in the Round" aspect is very evident here. 1000 watt PAR 64s light the altar table area in blue, with red top light being produced by bouncing from the ceiling. |
| The screens up stage are illuminated by 1000 watt fresnels to give a "graduated fill" effect of dark lavender to blue. (The white area is overexposure by the camera.) The images are not projected but were laboriously glued on the rear of each screen a piece at a time by set designer Carol Cunningham. | |





This scene is near the finale. The altar table area is lit in pink provided by red and blue from the same angle. Bounced ceiling light providing the top glow is very evident here. The screens are once again backlit but with a set piece of a cross in front.
Behind and above the stage area, the alcove's side and back walls are spotted in blue with the face of Jesus illuminated in white. The former is done with diffused PAR 64 aircraft landing lights, while the face light is provided by two PAR 36 mirror ball pinspots.

---
West Side Story
Halifax West Players
Saint Patrick's Auditorium
Halifax, Nova Scotia
May, 2004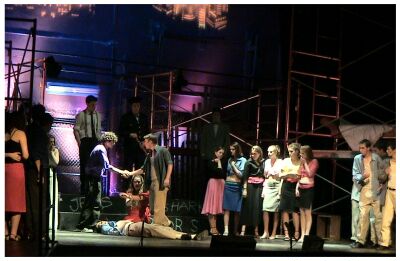 Here, one of the gang members has been slain. His sister (kneeling) mourns for him while the rival gangs declare a truce.
The scaffolding structures represent the tenements, which in this scene are obliquely lit from off-stage side positions by wide-angle, short-throw PAR 64s on stands. Barely visible is red up-lighting on the front vertical pipes of each rear scaffold. This was done with PAR 36 pinspots.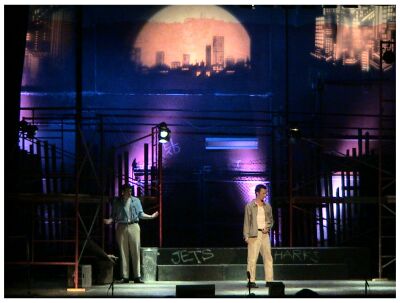 This is a night scene with the rear bathed in blue and the downstage actors lit from a high angle to simulate street lighting. Illuminating the rear set behind the slatted fence are lavender slashes provided by 600 watt Ray lights from floor positions. Projected skylines above represent the rest of the big city outside of the world of The Jets and The Sharks.
In a 1950s style, there are shaded, but visible, lights on the scaffolding behind. They are focused downstage at a low angle.


---
Thanks to photographers Colin Conrad, Richard Bonner, Shaun Smith, Charles Harland, Paul Lindsay and Mr. Blurry of the Halifax-Dartmouth, Nova Scotia area for usage of their photos.

---