Photo Gallery Archive

THEATRICAL
PRODUCTIONS
2012 through 2013

Lighted By
RICHARD BONNER



(Reverse chronological order is employed so that photos
of the most recent events will be displayed first.)
---
Best Little Whorehouse in Texas
Dartmouth Players
Dartmouth, Nova Scotia
November, 2012

(All lights are 500 watts except as noted.
All fresnels have barndoors.)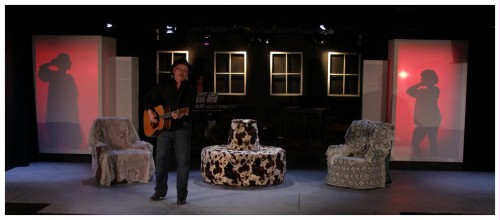 The shadow boxes represent an outside view of upstairs windows via live actors behind scrim-covered walls, each with a single 150mm fresnel on a floor stand. (The hot spot of one may be seen behind the shadow at Stage Left -- your right.)
The front lighting on the guitarist is from 150mm fresnels in a flesh gel. Back lighting is 250-watt, 80mm fresnels in a colour-correction blue. The same model fixture lights the upstage windows using a straw colour.
This shot was during an early rehearsal before the lighting had been perfected. There are inconsistencies in the shadow walls.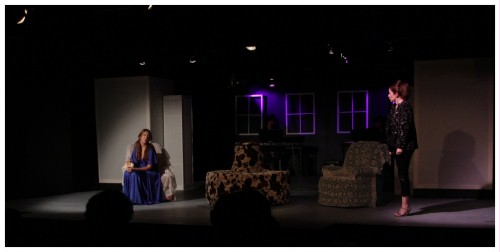 Lighting is kept simple for this touching scene. One 150mm fresnel lights each actor in open white, while a hint of the blue backlighting adds depth. The windows here are illuminated using Ultimate Violet gel on 150mm fresnels.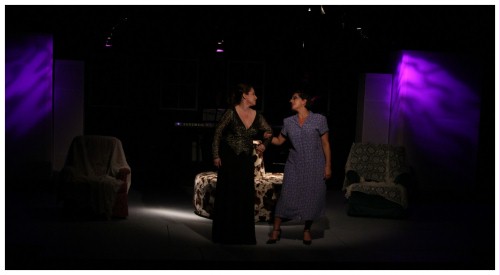 Again, the look here is kept simple. Two 115mm ellipsoidals project breakups onto the front, outside edge of each shadow box. The colour is Ultimate Violet. (The one on your left appears to have a Magenta, central spot, but that is camera overexposure.)
The front light is a single 150mm fresnel in open white, and the lighting over the round seat is accomplished using two 50-watt PAR 20s with no gel.
(Lights seen way in the background are over the musicians' sheet music, and although are not part of the main design, they do illuminate an on-stage area, and thus are included.)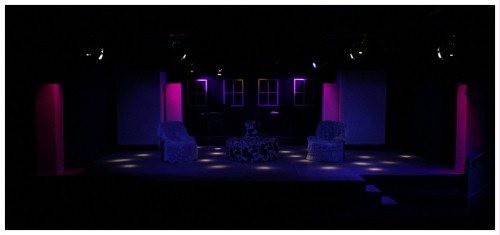 Here is a view without actors of a suggested look which was eventually used in the Finale below. 150mm Fresnels wash the stage in a Medium Blue. A 80mm fresnel lights the leading edge near the top of each rectangular column in a Mauve shade. The windows again have their Ultimate Violet look. No backlighting is used.
The white spots that dot the stage are done with 24 individual, six-volt PAR 36 fixtures. Lamps used are 35-watt Osram Superspots. Most are focused straight down.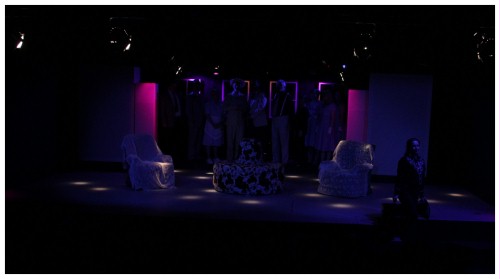 This is the above look with the actors on stage. Added are a Dark-Blue backwash on the upstage actors and an additional Medium Blue stair light at the lower right for Mona as she exits. All additional lights are 150mm fresnels.
(The downstage Mauve columns were framed out of this photo when it was taken.)


---
Thank you to photographer Bruce Goodick of Halifax for usage of his photos.

---