AIEL Shop Tips

WORK STATIONS

Division of your shop space into individual
task areas serves to keep separate each
type of work. Doing this means that the
specific layout, tools and supplies can
be tailored to that task and its workers.
Topics
---
THE FOLLOWING MAY NOT BE REPRODUCED
WITHOUT PERMISSION FROM THE AUTHOR ©
Preliminary
A sectioned shop means having individual areas for specific purposes. This is especially desirable when more than one person will be working because keeping jobs separate prevents one worker from interfering with another. There is also the isolation factor where some types of work must be kept away from others. An example that comes to mind is that electronics must be kept away from buffer work and from spray painting. In addition, the latter needs to be specifically ventilated.
Within a given section, further assignments can be made by having certain tasks devoted to their own stations. Each station should have an optimal layout for its task(s), and be outfitted with all tools and accessories required to best do that task -- even if this means duplication of some items. The purpose of having some things be the same is so that workers will not have to go elsewhere to find a tool, a rag, a part or other item that should have already been there.
Realise that topics related to Stations such as Benches, Power, and Lighting will not be covered here because they are discussed in their own links accessible from the Work Area Setup Table of Contents.
Now read further to see specifics regarding the stations suggested in this article.
Buffer Station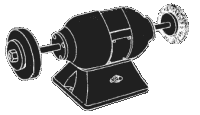 If you do refurbishment work, an electric buffer is a must. Outfitted with a wire-brush wheel and/or a soft polish wheel, items taken here can be stripped of rust, tarnish, or old paint, and then polished to a restored finish.
Requirements: Set up an enclosed area because of the dust and debris raised during the buffing process. Ventilation might be needed, but at the minimum, have eye and hearing protection, and possibly a face shield. A selection of pliers will be needed to firmly hold small parts and to keep skin away from the buffer wheels.
Extras: At this station, store spare wheels and possibly a hand drill with a wire-brush attachment and extension cord. The latter is for working on items too heavy or too large to be brought up to the level of the main buffer.
Fine-Work Station

For close-up work that requires precision, an area for these tasks should be provided that is clean, well illuminated, and is separated from any particulate-making operations such as buffing and painting. A sit-down bench or desk works best for this type of labour.
Tools and Accessories: Have a selection of small drivers, pliers, dental picks, brushes, cotton swabs, and so on. Provide cleaners and polishes, and rags in separate trays to prevent cross contamination. An illuminated magnifier may be considered, as well.
First Aid Station

Cuts, abrasions, burns and worse can happen in any shop. Be prepared with bandages, ointments, disinfectant and more. If you use solvents, an eye wash kit is recommended. Consider adding antacids, pain medication, and other over-the-counter medications.
Help: Include a treatment book, and post the telephone number of the nearest medical facility, along with the address of, and directions to, that facility.
Glue/Heat Station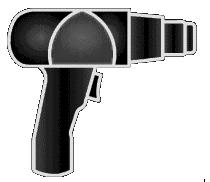 Often items will need to be glued. Supplies should include a variety of adhesives, mixing trays with sticks such as tongue depressors, and ways to clamp the items being worked upon. Useful tools for this are a pair of haemostats or a small vice.
Hot Glue: In addition, a hot-melt glue gun with glue sticks might be considered for this station. Set it up with an illuminated, switched outlet and heat-proof holster to hold the gun off to one side when not needed. The gun nozzle should protrude so melted glue won't build up in the holster. A tray underneath with a teflon pad will catch drips and allow solidified glue to be later removed.
Concentrated Heat: If you use a heat gun to warm items, remove labels, or for electronics heat-shrink tubing, have an area for this. Since heat can be used to cure some glues, this article suggests the glue and heat stations be one in the same, or at least next to one another.
Get a gun that can stand vertically on its own so that you can rest it on the bench or desk and manipulate over top of the nozzle the items being heated. Provide off to one side a heat-proof holster for the gun. The nozzle should protrude so it can cool without heating the holster.
Office Station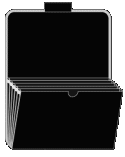 Paperwork will need to be done at some point, and this is the place for that. It is also suggested that a telephone and computer be installed here, the latter possibly with an Internet connection. Isolate this area from dirty work so as to keep it clean.
This is also where shop and equipment manuals, along with repair schedules should be kept. Have a small file cabinet and keep it organised. Supplies would include extra file folders, file tabs, and markers.
(See file organisation tips in our Decluttering your Shop Space article.)
Accessories:
Pens
Notepads
Sticky Notes
Ruler
Rubber Bands
Paperclips
File Folders
Stapler
Wall Calendar
Bulletin Board
Additional accessories might include a clock, a name &
phone number directory, or database, and some flashdrives.
Personnel Station
How about a rest area for breaks or lunch as a location to get away from the shop for a bit? Try to isolate it with a partition or place it in a small room. An alternative would be to have it in a quiet upstairs location, if one is available. Furnish it with a table and a few chairs.
Install drawers and cupboards, a microwave oven, and a fridge and sink if possible. Provide enough outlets on enough circuits to handle the appliances' current draw, with GFCI outlets for electrical safety near that sink. A bulletin board would be a good idea for employees, but even if it's only yourself, posted reminders are a positive thing.
Stock:

Plates
Mugs
Bowls
Cutlery
Can Opener
Drain Board and Tray
Dish and Hand Towels
Compost and Recycling Containers
Garbage Container

Supplies:

Paper Towels
Dish Scrubbers
Dish Detergent
Liguid Cleaner
Rags
Kitchen Wrap or Waxed Paper
Solvents Station
Depending on the type of work you do, you might need solvents. At a minimum you'll need methanol or rubbing alcohol to clean lamp bulbs. However, if you deal with paint, oil, adhesives, and/or restoration of equipment having various kinds of grime, others will be needed.

Consider having:
Acetone
Hydrogen Peroxide
Lacquer Thinner
Methyl Ethyl Ketone
Mineral Spirits
Naptha
Keep a selection of rags nearby. Use a metal tray with separate compartments to hold used rags. This is to prevent cross contamination. Consider an eye-wash kit as well.
For details regarding various solvents,
their uses and cautions, see
Lubricants and Solvents Purchase Guide
Vacuum Station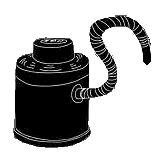 There are always items needing a suction-style of cleaning, even if it's just the corners of the shop floor. Use an industrial-size model with good air flow and a large drum that does not need emptying too often. Set up a vacuum station with all accessories hanging close by. Attachments should be a crevice tool, floor and upholstery brushes, and possibly a water squeegee if you has wet-vac capability. Supplies might include extra bags, and wet and dry filters. Extension hoses would be a plus if you want to reach far afield from time to time.
Control: Arrange the vacuum power switch to be left on and controlled instead by a wall switch. Have enough hose so that it can reach all typically desired benches and areas within reason, and have a bracket that will take the full coil of hose when in its storage position. Setting it up this way means that the drum can be placed out of the way under a bench or counter. Just make sure it's not too hard to access for emptying and servicing chores.
Wet Station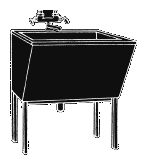 The Sink: This will center around a deep sink such as a laundry set tub. It should be a fibreglass or similar type that can handle typical items being washed in a stage lighting shop. Stay away from enamel or porcelain finishes because they are too slippery, and they will scratch and chip too easily.
Spray Wash: Install a faucet with a garden hose fitting. Attach a 1-metre length of hose with a cut-off end which will enable water pressure to be increased by squeezing. You might consider a commercial hose with a trigger-style nozzle instead. Arrange the hose to accept both cold and hot water. Finish off with one or two sink caddies hanging on the inside of the tub off to one side to hold wet soap pads and sponges.
Illumination: Install a light above the sink that can handle water being splashed upon its face such as an LED spotlight. Locate its switch next to it or as close by as possible.
Work Space: Next to the tub should be a counter at the height of the tub side. Cover it with rubber or sponge matting to make it waterproof and to be easy on items laid there. You may wish to consider a dish rack and drain board for smaller items.
Storage: Above and/or beside the sink and counter should be cupboards for storing cleaners, polishes, rags, and towels. Behind the counter have pegboard for hanging a selection of brushes and other cleaning utensils.
---
Providing stations dedicated to specific tasks
means no interference from/to other departments.
This promotes efficiency and easiness for workers.
---
To see some of our shop's
bench setups, take the
AIEL Photo Tour

See More Suggestions in Our
General Tips for the Shop